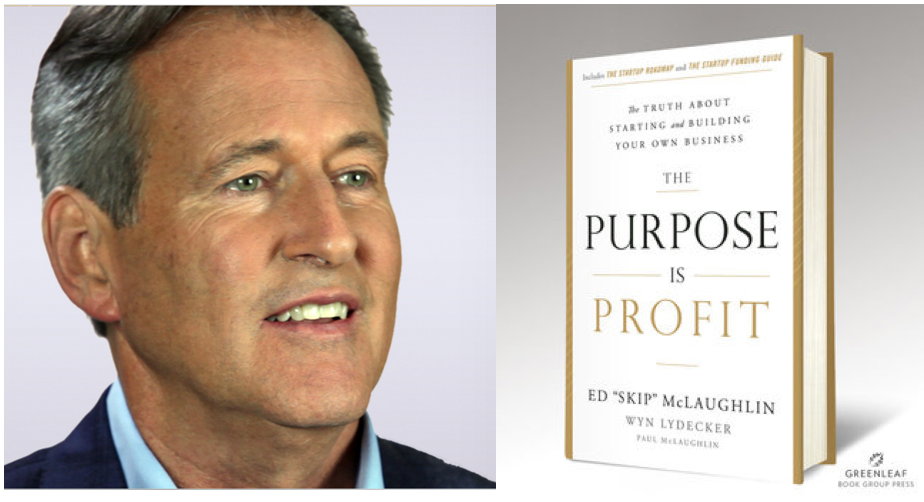 For Immediate Release
Contact:
Peter Truell
The Dilenschneider Group
ptruell@dgi-nyc.com
(212) 922-0900
Entrepreneur Shares Secrets of Startup Profitability
STAMFORD, Conn. — Dec. 12, 2016 – If entrepreneurs start a business – and invest their time, money and reputation – then they'd be wise to build it with profit in mind from the get-go.
That's the advice from serial entrepreneur Ed McLaughlin of Darien, Conn., author of The Purpose Is Profit: The Truth About Starting and Building Your Own Business. McLaughlin, the founder of four businesses and current owner of Blue Sunsets LLC, spoke at The Ferguson Library in Stamford recently and shared a step-by-step process to start, fund and grow the right business.
With new businesses failing all the time, Rule No. 1, he said, is to plan for profitability right away. Profitability can help entrepreneurs pay their bills and save some money, create sustainable jobs, fund future growth and expansion, fulfill their social mission, and fuel their business vision.
McLaughlin, who was joined by co-author Wyn Lydecker, founder of Upstate Business Planning, also discussed a concept he calls "distinctive competence," starting a business in an industry where you have proven expertise.
"Distinctive competence," he said, "is a combination of your unique skills, proven experience, industry knowledge, and track record of success that you have acquired over time."
He also discussed the right time to start a business and ways to secure funding. The time is right, he said, when you have all the pieces in place: a bankable business idea, profitable business model, the funding to break even, a fully committed management team, and contractual pre-orders.
McLaughlin's 10 Commandments of Startup Profit
1.    Build a business based on your distinctive competence
2.    Develop and deliver a superior value proposition
3.    Don't startup until you have a profitable business model
4.    Take charge of the money and control it
5.    Create a profit-based reward structure
6.    Recognize and hire lightning in a bottle
7.    Create profit centers to scale your business
8.    Augment profits with proprietary technology
9.    Build a financial war chest for strategic advantage
10.  Behave ethically and profits will follow
McLaughlin and Lydecker wrote The Purpose Is Profit to help budding entrepreneurs.
The book offers direct insight into how a startup works and includes tools and processes to discover, define, differentiate, test, value, fund and operate your new business.
McLaughlin didn't start out as an entrepreneur, but turned to it after the frustration of working for a big corporation. He said he was hungry for control and independent success. He left  a high-level corporate job to start his own business, which he grew into an Inc. 500 company and sold to a Fortune 100 company.  And McLaughlin has continued from there, today with four start-ups under his belt – Blue Sunsets, Sequentra Solutions, USI Companies Inc., and Sigma Communications.
# # #