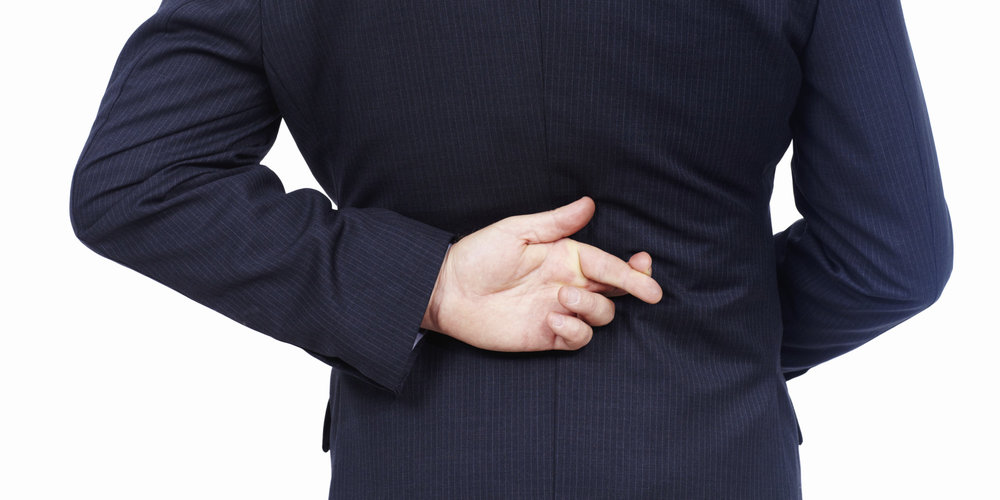 Previously Published on LinkedIn
By Ed McLaughlin and Wyn Lydecker
Most of us were brought up hearing the story about George Washington cutting down his father's prize cherry tree and coming clean about it in a grand gesture of integrity and honesty. The point of the story is to set up and use a well-admired figure to teach the virtue of honesty, and the story has worked for many years. Most people, when asked, will say, "Honesty is the best policy."
But how many individuals and corporations actually follow this policy? Contrast the cherry tree story with the recent announcements about massive frauds. Volkswagen has been caught cheating the public by building software into its cars to falsify emissions data. Last week, Takata announced that millions of more vehicles need to have their airbags replaced to avoid the danger of sudden explosion. Takata employees knew about the defect in their airbags as long ago as 2005, but the company hid the data. Then, there's the recent ABC TV miniseries "Madoff," which delves into the greatest Ponzi scheme in history. In the show, Madoff professes to put honesty first, yet he swindled over $65 billion from his unsuspecting investors. With all the media attention focused on dishonesty, you could wonder, who is truly honest?
Lying vs Telling the Truth
Somewhat counter-intuitively, research shows that people lie an astonishing amount of the time. A study from the University of Massachusetts revealed that 60% of the participants could not go longer than 10 minutes without lying. These were not lies about capital crimes or anything, as the article says, "…in general we lie about things that aren't important, little things that we think will make us look better or more likeable." Many participants didn't even realize the degree of their untruthfulness until they reviewed the video that had been recorded of them. Our lies are so small, and usually so benign, we don't even notice when we're telling them. People can tell themselves that small dishonesty may seem like a tolerable cost for business success. But large problems can arise when groups of people in businesses lie to themselves. That is how we wind up with Volkswagen-like debacles.
Can complete honesty actually work in business? Rebekah Campbell, CEO of Posse, wrote an article in the New York Times about the impact of honesty on her company as it entered its growth stage and was looking for expansion capital. She told of asking one of her early investors, a highly successful entrepreneur and angel investor named Peter, for his one biggest piece of advice. He answered, "The secret to success in business and in life is to never, ever, ever tell a lie." Peter went on to say, "Complete honesty is the access to ultimate power."
The Cost of Lying to Ourselves
As Campbell wrote in her article, her angel investor claimed that "telling lies is the No. 1 reason entrepreneurs fail. Not because telling lies makes you a bad person but because the act of lying plucks you from the present, preventing you from facing what is really going on in your world. Every time you overreport a metric, underreport a cost, are less than honest with a client or a member of your team, you create a false reality and you start living in it.
"You know the right path to take and choose another, and in so doing you lose control of the situation. Now, rather than tackling the problem head on, you have to manage the fallout from the lie. I know people who seem to have spent their entire careers inflating the truth and then fighting to meet the expectations they have set."
Peter explained that as soon as entrepreneurs start telling the truth, they understand what they must do next. As Campbell thought about Peter's advice, she realized he was right. She found that the little lies she had been telling herself and others – slight exaggerations or minor omissions – had begun to amass themselves, creating sticking points and uncomfortable moments. Campbell knew that avoiding the truth was working against her and removing her from thinking about realizing her business vision.
Can Radical Honesty Build Trust?
Campbell decided to try a campaign of radical honesty for dealing with her new set of investors. When she made her next pitch, she decided to be totally open and honest about her financials and her company's situation. The next day, the investor called to say how impressed he was with her approach and told her he would invest. That's some fast positive reinforcement!
Whenever I have to decide something, I articulate all the components that are going into the decision to myself and to everyone involved. I embrace hard truths because that's how I learn. When I formed my corporate real estate outsourcing venture, USI, I set out to build a culture of trust, integrity, and transparency. We carefully detailed all employment agreements, including expectations for both sides. Employees were supposed to hold the company accountable for its end of the agreement, too.  We also expected everyone to admit when they made a mistake, then apologize and do everything they could to rectify the error. Our customers really appreciated our forthright behavior.  We earned and re-earned their trust through our actions.
If your business does not have an articulated culture of honesty and integrity, why not establish one? It can imbue internal and external communications and relationships with a new level of trust and success.
Ed McLaughlin is the author of the upcoming book, The Purpose Is Profit: The Truth about Starting and Building Your Own Business along with co-authors Wyn Lydecker and Paul McLaughlin. The Purpose Is Profit (Greenleaf Book Group) is scheduled for release August 2016.
They are currently offering a complimentary eCopy of The Ten Commandments of Startup Profit here.
Connect with Ed on LinkedIn here. His email is Ed@ThePurposeIsProfit.com