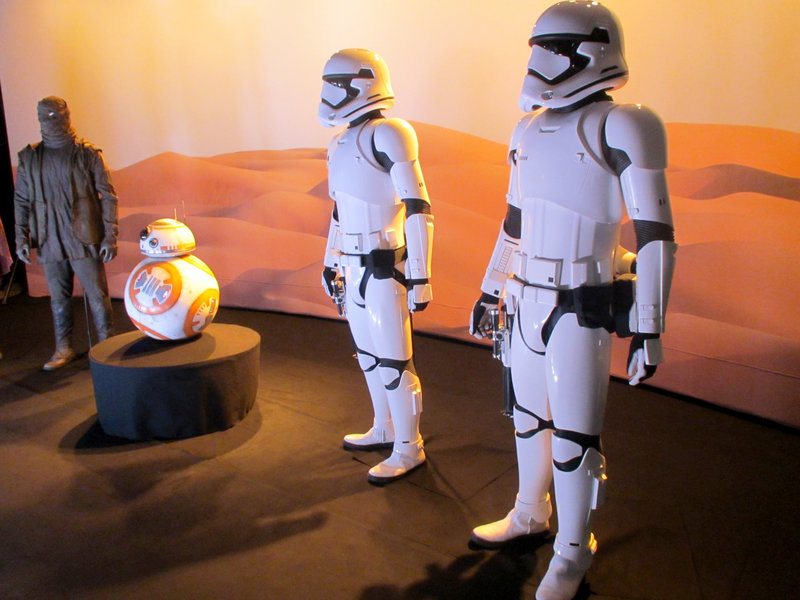 Previously Published on LinkedIn
By Ed McLaughlin and Wyn Lydecker
Tech startup, Sphero, rose to prominence, drew national attention, and secured brand advertising on the big screen of one of Hollywood's most popular franchises. How did they do it?
They turned an ordinary ball into a high tech learning toy, and then they caught the attention of Disney, expanded their product line through innovation, and became the maker of what may become the hottest gift this holiday season.
Headquartered in Boulder, Colorado, Sphero entered the market with their first product that bears the company's name: "Sphero," a robotic, app-controlled ball that, in their words, would "change the way you play."
Paired to your device via Bluetooth, you can remotely drive this pet-proof and waterproof ball up to 4.5 mph and operate it remotely within a range of 100 feet. Protected by a polycarbonate shell, this iOS, Android, and Windows compatible toy boasts of high-tech innerds and LED lights that can produce over a million color choices.
Innovating a New Path on a Well-Trodden Road
But there's more to Sphero the robotic ball than driving it and playing with it. After all, remote control is nothing new. It has been around since 1898 whenNikola Tessla introduced his "teleautomaton" – a remote-controlled boat at Madison Square Garden during an electrical exhibition. Remote-controlled cars, airplanes, pets, etc. have lined the shelves of toy stores for years.
But the Sphero ball is different. In addition to its remote-control capabilities, it is programmable. By manipulating blocks that represent a code language called OVAL, you can program orders for the robotic ball. A Wall Street Journal article, "Toys that Teach the Basics of Coding," says toys (like Sphero) "hide the gobbledygook of computer code language and instead present children (and curious adults) with commands they can move around like physical or virtual blocks…if you can set an alarm on your smartphone, you'll be able to program these toys without a hitch."
Providing hands-on engagement in robotics and coding, Sphero is a shining star among the growing market of high tech toys for kids and ranks #1 on Gizmag, the online technology site that recently ranked the Top Ten Coolest High Tech Toys for Kids this holiday season.
Sphero's website, replete with videos that are more like infomercials, invite intrigue and play for anyone who wants to ante up and pay the $129 price tag for Sphero or $99 for Ollie, a robotic race car.
The Disney Difference
It appears that the Sphero company's participation in the Disney Accelerator Program in 2014 introduced a game-changing opportunity for the company. Described as "a highly selective, immersive mentorship and investment program for technology enabled startups in the media and entertainment space," the current Disney Accelerator Program offers $120,000 in investment capital to each of the 10 startup companies selected for the program.
When Sphero joined the Disney program in 2014, they had Disney CEO Bob Iger as a mentor. He introduced the Sphero execs to BB-8, who was then a top-secret new character of the upcoming Star Wars movie, "The Force Awakens." He asked the Sphero team if they could bring the character to life (from the virtual world to the real world) by adapting the same technology they use for their robotic ball. The Sphero team met the challenge and was also able to create a head for the top of the ball – one that would move around without falling off.
Sphero's new product transformed Disney's new BB-8 droid into an endearing base-ball-sized toy version of the Star Wars movie character. Its enhanced technology gives it an adaptive personality, and it responds to voice commands. After paying the $149.99 price tag, its lucky owners can also create and view holographic recordings.
Born into the royalty of the Star Wars family, BB-8 – and its mother-ship, the Sphero company – now enjoy the excitement of the Disney brand.
It appears that the sky's the limit!
Ed McLaughlin is currently co-writing the book, The Purpose Is Profit: The Truth about Starting and Building Your Own Business, with Wyn Lydecker.
They are currently offering a complimentary eCopy of The Startup Roadmap: 21 Steps to Profitability here.
Copyright © 2015 by Ed McLaughlin All rights reserved.