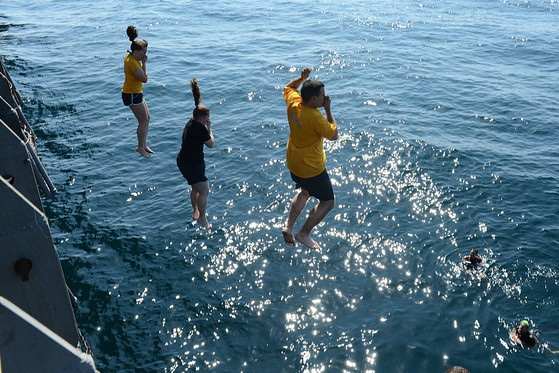 By Ed McLaughlin and Wyn Lydecker
Shark Tank has become ABC's wonder child, drawing record ratings in February and positioning the Friday night prime time show in the top spot for seven weeks and running. Why has a show about people who are willing to face a group of tough celebrity investors in front of a national audience of over eight million viewers become a cultural phenomenon? What is Shark Tank's allure?
The Shark Tank Charm
The attraction to Shark Tank isn't just the chance to witness billionaire Mark Cuban or real estate mogul Barbara Corcoran ante up a few hundred grand to the brave souls standing in front of them. The magnetic charm is more because viewers see people like themselves getting ideas like their own validated and funded.
Shark Tank holds out hope that anyone can be an entrepreneur.
Here are four reasons the next new business could be yours:
1. Opened: The Floodgates of Possibility
Like the First and Second Industrial Revolutions that opened the floodgates of opportunity and influenced the everyday lives of all who lived during that time (1760-1870), our technology era has spread opportunity across socio-economic lines and put the growth of new products and services on steroids. However, there is a difference. The Industrial Revolution witnessed the sharing of ideas like large scale manufacturing practices, the harnessing of waterpower, and the production of machine tools that required heavy equipment. The communication and transport of these ideas and skills took decades to spread and develop, a tedious process compared to our ability to rapidly share products and services with today's global and mobile audiences.
Not only can fortunes be made with ideas like ReadeREST and CitiKitty, they can be made overnight. Take Cycloramic, the $1.99 app that turns your mobile phone into a hands free panoramic camera. It was downloaded 100,000 times within an hour of the Shark Tank episode where it was featured. That download rose to seven million within a year.
2. Help Is an Arms-Length Away
We also have access to a global pool of talent. If one visionary lacks the distinctive competence to fully advance a new business idea, alliances can be formed over several time zones any time of the day or night. Virtual conferencing allows us to have brainstorming sessions while one person looks out their window and sees palm trees while others may be viewing cascading ski slopes or a busy downtown metropolis. People are no longer separated by geography.
Technology in the name of apps, software packages, and websites have also made it possible for critical administrative business roles to be fulfilled by fewer people. This means a startup can launch with a lower payroll without sacrificing accuracy. A well designed website can be a landing page for thousands of people to gather at one time.
Rather than fewer companies exercising a limited workforce for fewer products and services, there are now more people available to fill the roles of a larger number of startups offering a sweeping variety of products and services. It doesn't look like the wellspring of innovative ideas will be drying up any time soon.
3. Global Customers
Whether we tweak an idea or create an entirely new one, we can spread the word and find customers for a product or service from anywhere in the world as long as they have access to a computer screen and the Internet. In addition, "e-commerce has grown to a $220 Billion industry, growing at almost 20% per year." The e-commerce platform has become the venue of choice for an increasingly and almost overwhelming number of products that have the potential to draw overnight sales.
4. More Funding Options
The financial playing field has been leveled. Not only can the commonplace budget have a stake in something bigger than itself, innovators do not have to be tied to family money, wealthy friends, or Ivy League educations in order to be eligible for a loan or to become successful entrepreneurs.
Venture capitalists and angel investors are looking for people with good ideas and and entrepreneurial work ethic, not their social status.
Crowdfunding allows the average person without an extraordinary budget to be part of something bigger than his or her own bank account. Crowdfunders can share in the fun and contribute to the social impact that so many new products influence in some way today.
Corporate Professionals, Empty Nesters, and Retirees can set aside a portion of their income stream to bootstrap their businesses.
When Will You Jump In?
Reality shows like Shark Tank allow you to participate vicariously through the lives of others. But I believe that Shark Tank offers something more: It hits your entrepreneurial nerve and makes you realize that you are only one good idea away from making the same kind of pitch you watch every Friday night at 8pm ET.
I invite you to explore your entrepreneurial leanings with my free download of the "PreRelease Snapshot of The Purpose Is Profit," which includes An Entrepreneur's Motivation and The Startup Roadmap. Download it here. The next great business could be yours!
Ed McLaughlin is currently co-writing the book The Purpose Is Profit: The Truth about Starting and Building Your Own Business, with Wyn Lydecker and Paul McLaughlin.
Copyright © 2015 by Ed McLaughlin All rights reserved.