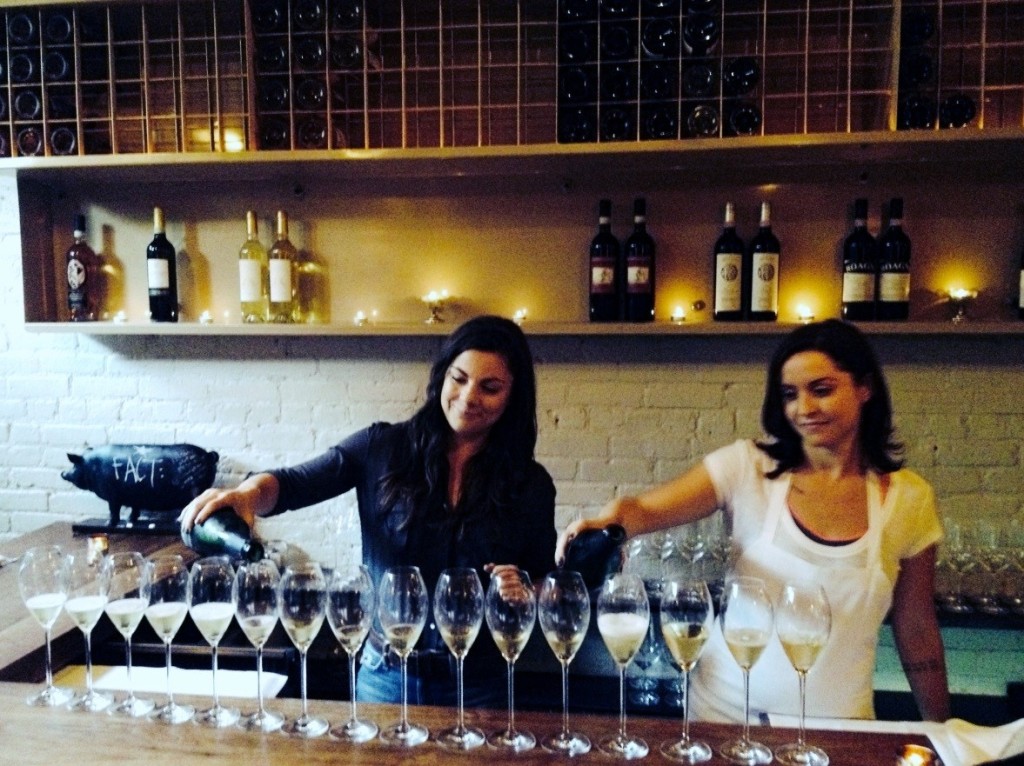 My love, she speaks softly. She knows there's no success like failure, and that failure's no success at all.
   – Bob Dylan, "Love Minus Zero/No Limit"
By Omar Douglass
Contributing Writer for The Purpose is Profit Blog
As Dylan tells it, the title for "Love Minus Zero/No Limit" came before the lyrics. The phrase is a fraction – pronounced: "Love minus zero over no limit;" to which the solution would be, "absolute unlimited love." Wikipedia adds, "The title is also based on gambling terminology that would mean that all love is a risk." True story. Like love, starting a business of any kind is a risk that requires undivided commitment to grow and plenty of appreciation to flourish.
The Toughest Business.
The 2006 edition of The Executive's Almanac highlighted the "Toughest Business in the Big Apple." The recipient of this honor was (and still is) the restaurant industry. The Almanac said, "New York City has 18,000 restaurants. 1,000 new ones open every year. Four out of five new restaurants go out of business within five years." Talk to any current or former member of "The Industry" in New York and they'll tell you, the stats are real.
In a city full of arrogant, critical, and picky foodies, being able to open, operate and break-even on anything from a food truck to a fine dining establishment, even for three years, is an accomplishment. Doing it for six is a feat. Just ask Sarah Krathen and Emma Hearst. From Thanksgiving of 2008 through May of 2014, the two owned and operated Sorella – an acclaimed and well-loved Northern Italian eatery that was stylishly situated on the edge of Chinatown in New York's Lower East Side.
After meeting at the Culinary Institute of America and falling fast into an enduring friendship that turned into a loving sisterhood (Sorella means sister in Italian), Sarah and Emma left school hungry for success and driven to make a dent together in the most cutthroat industry in the most cutthroat city in the world. Despite the odds, the two young superwomen and partners-in-cuisine kicked some serious culinary ass. Describing the Sorella approach to success in their cookbook, Sorella: Recipes, Cocktails & True Stories from Our New York Restaurant, they wrote, "We are day makers. Magicians even. We accept the challenge of a bad day and turn grumpiness into giddiness…And remaining gracious and hospitable takes work in a city that can be pretty harsh." As a former waiter, bartender, and busboy – at Sorella actually – I can attest to the truth of that statement. The goal was to provide each guest with knowledgeable, warm, and unobtrusive service that anticipates needs and flows seamlessly through the entirety of their experience.
When they decided to bring their first venture to a close due to decreased profitability and new independent interests, the sisters went out with the same edgy grace that fueled it – and with a huge party too. Patrons, friends, family, and former employees enjoyed wine, revelry, and pizza at the restaurant's blow-out "funeral." No one was cooking that night, but the effort, love, and gratitude for one helluva great run was clear. Regardless of its conclusion, the partnership had produced some really great food and lasting memories for Sorella customers, staff members, and especially for Hearst and Krathen, who agree, "The reward in hospitality is constant. Spend your time making days, and, as we like to say, everyday can be the 'bestdayever'." And even though it's no longer with us, their business proved again to the world that competence, commitment, passion, and appreciation are essential ingredients in the recipe of success.
Hospitality Means Business.
So how did they do it? For starters, they let individual competence guide the enterprise. Emma's talented touch as a chef and Sarah's perceptive palate made dividing management of the house pretty easy. But the commitment to practice the lifestyle of hospitality they preached is what really set Sorella apart from many of its peers. "For us, hospitality is not something that happens only in the front of the house. It isn't just about the guests. You must be hospitable to your coworkers, vendors, and neighbors as well as the guests."
As entrepreneurship authors Ed McLaughlin and Wyn Lydecker affirm in their upcoming book, "The Purpose Is Profit," it's crucial to base your business on your distinctive competence, but there's more. When Ed launched his company, USI, he wanted to establish a culture of honesty, openness, and integrity from the beginning. He believes if you act with integrity, profits will follow. This is how Sarah and Emma ran their business. Whether you're an aspiring superstar chef or just a guy with a great idea to save people money or time with a service you provide, starting up with certain principles in mind can strengthen and lengthen the life of your business.
If you want to significantly boost your chances of reaching such success, just email Ed at: ed@thepurposeisprofit.com and request a copy of his "Ten Commandments of Startup Profit," and he will send it to you.
Ed McLaughlin is currently co-writing the book "The Purpose Is Profit: The Truth About Starting and Building Your Own Business" with Wyn Lydecker and Paul McLaughlin.
Copyright ©2015 by Ed McLaughlin. All rights reserved.