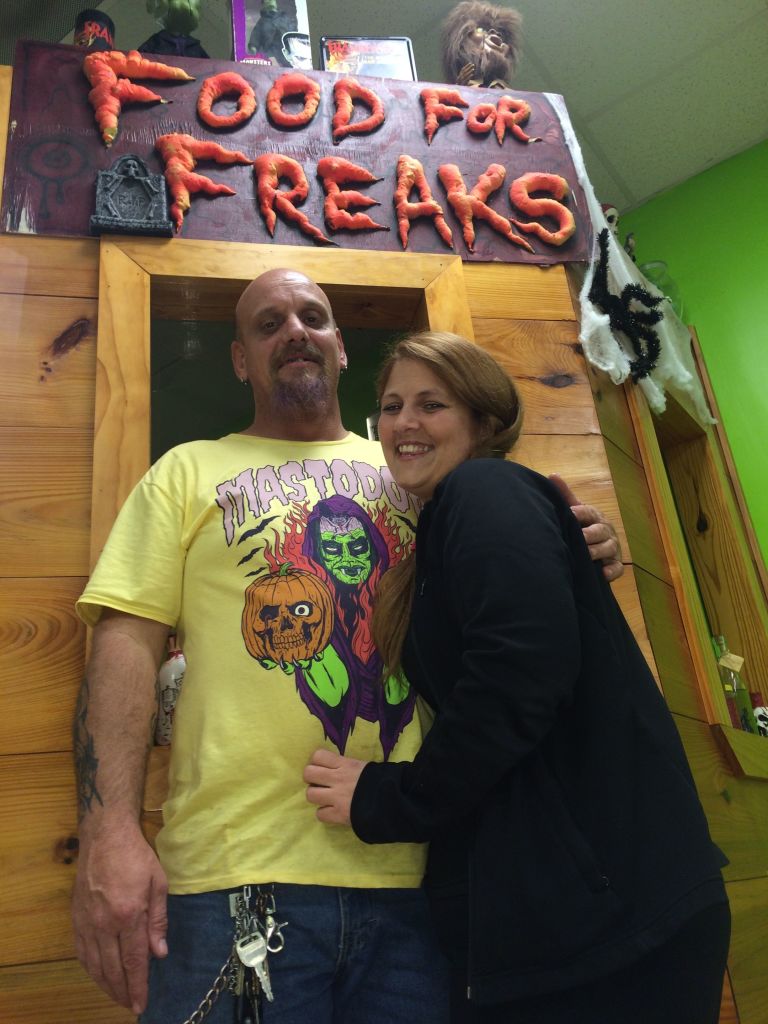 You gotta fight…for your right…to paaarty!
 – The Beastie Boys
By Omar Douglass
Contributing Writer for The Purpose is Profit Blog
You really gotta fight for inspiration sometimes. No, really. There are times where you have to put your headphones on, tune up something loud and grind it out. You're Bruce Lee fighting hard AND smart against would-be limitations and past – or through – the barrage of impediments that appear to stand in your way to the success you dream about every night. Of course, if you're an entrepreneur, you already know this. I'm not talking about your Silicon Valley tech startup wunderkind. I'm talking about regular folks all over the country who use nothing but stamina and determination to start and run their own small businesses. Debbie Knight is just one of these special people.
True Entrepreneurial Grit
Debbie worked 95 hours last week. The part-time waitress, full-time mom, and over-time entrepreneur clocks out from the night shift at the Huddle House on St. Simons Island, Georgia, around 6:00 am most mornings. Usually concluding her shift with a cup of coffee and a cigarette, she then embarks on the 45-minute drive home across the causeway from island to mainland to hinterland. Upon arrival, she assumes her alter-ego of Supermom to five kids and readies them for their day with the help of her partner in life and business, Ted Hampton. After getting a little rest, Debbie drinks another cup of coffee and leaves the house with Ted to get back to business – their business.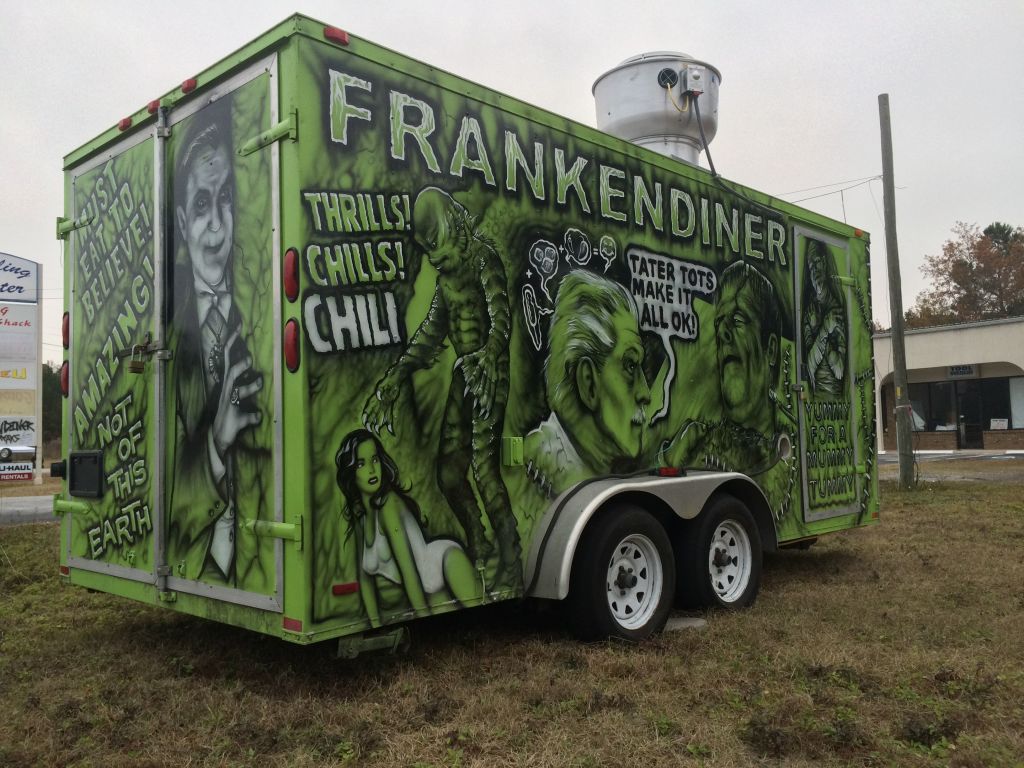 A Herman Munster trailer on Georgia Highway 341 is a mobile billboard for the restaurant that sits behind it.
Deb and Ted's "excellent adventure" sits behind a conspicuous Herman Munster-green trailer on Georgia Highway 341, just a few miles away from I-95 in the unincorporated town of Sterling. The Frankendiner is the couple's hardscrabble and mish-mosh-pit dream come to life. Born from love, sweat, tears, and thousands of hours listening to and playing metal, punk, and hard rock music, Ted started Frankendiner in 2013 as a food truck with former bandmate and fellow chef, Noel Holloway. Soon after, Holloway's other band was signed to a record deal, and he decided to opt out of the business to focus on the music. So Debbie stepped in as co-owner and front-of-the-house manager. Now operating both as monster truck rally point and a brick and mortar business, the Frankendiner is part roadhouse, part live music venue, and part horror movie funhouse.
The Truth about Bootstrapping
I first knew Noel and Ted, and recently met Debbie, who filled me in on the Frankendiner story and invited me to come visit. After only a few minutes hanging with her and Ted and watching them work together, it was easy to see that Ted and Debbie's dream of starting something for themselves and their children is as alive and as undead as the monster who inspired them to go for it in the first place.
This is a story of two people who serve as an example of what it really looks like to bootstrap a business – and how beautiful it can be to chase a dream with a partner dedicated to the same goal. Although they make major dollar decisions together, Debbie scrutinizes and pinches every penny to the max and is constantly on the lookout for ways to reduce costs. For instance, she got Ted to forego a soda fountain for a big glass-fronted cooler to keep canned sodas in order to collect and recycle used cans in bulk for small sums of money that go right back into the business.
Realizing that she and Ted share more than love for the venture, but also the complementary talents that power it, is what drives Debbie. Even though she never thought she would be an entrepreneur, now she can't imagine not being one. Debbie and Ted share the passion for music, serving their customers, and making great food. When talking about her favorite dish, the Philadelphia cheesesteak sandwich, Debbie says, "Get it with tater tots and get ready to get messy. You'll start with your fingers, but have to finish with a fork."
Running a business takes more than passion. Relying on love and Ted's competence in the kitchen, the dedicated duo has committed more than $30,000 of their own money, plus all of Debbie's tips from waitressing, to the business. Having bootstrapped their business, this couple knows they have control over their own future. Any profit they make pays their bills and helps them feed, house, educate, and clothe their children.
In the recent Startup Success Series blog, "Bootstrapping Is Best," Ed McLaughlin and Wyn Lydecker conclude that, if you can pull it off, self-funding presents the biggest potential reward for the risk than other sources of startup capital. They explain, "Having control over business strategy and decision-making increased productivity, streamlined operations, and maximized satisfaction." As Ted and Debbie can attest, when your own money is at stake, you have a make-or-break mentality – and breaking is not an option.
If you're planning on starting a business in 2015, think of Debbie and Ted. They did it, and YOU CAN TOO! Want more inspiration and concrete advice? Download The Pull to Become an Entrepreneur at www.thepurposeisprofit.com, or contact Ed McLaughlin at ed@thepurposeisprofit.com and ask for The Ten Commandments of Startup Profit to be sent to you.
Ed McLaughlin is currently co-writing the book "The Purpose Is Profit: Secrets of a Successful Entrepreneur from Startup to Exit" with Wyn Lydecker and Paul McLaughlin.
Copyright © 2015 by Ed McLaughlin All rights reserved.