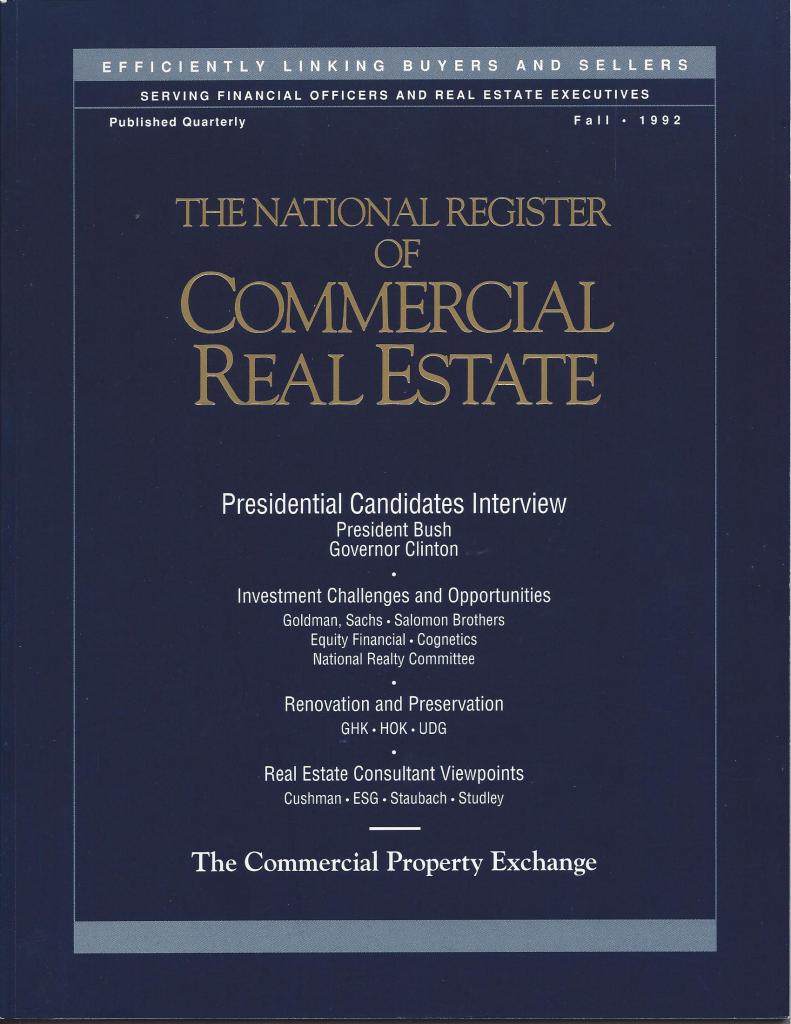 By Ed McLaughlin and Wyn Lydecker
The ideal formula for business success is when your passion and distinctive competence align. Only nine months after opening USI – a business based on my distinctive competence – I launched a second business called Sigma Communications Inc., or "Sigma" for short. Starting Sigma was the culmination of my long-standing passion to create a vehicle to more efficiently connect buyers and sellers of commercial real estate.
When I started Sigma, I believed that my passion for publishing the magazine would trump everything else. That proved to be a costly assumption. My Sigma venture is now a case study in why organizing a business based only on your passion will substantially underperform a venture based on distinctive competence.
Sigma's first product was a high-quality commercial real estate magazine titled The National Register of Commercial Real Estate. The center piece of the magazine was called The Commercial Property Exchange (CPE). It was a classified advertising vehicle for commercial properties for sale, lease, and sublease. In addition to the magazine, we offered a CD-ROM version of the CPE.
Even though the business model was failing, we were so proud of Sigma that we continued to pour USI's profits into the venture. We thought we had turned a corner when an executive from Bloomberg called and asked if they could distribute The Commercial Property Exchange through their terminals. We agreed, but it was too late. We had run out of time and money.
No one wants to kill their own business. But I was a capitalist and a pragmatist at heart and realized the time had come to part ways with Sigma. To me the purpose of a business is to generate a profit. After three intensive years, with a quarterly cash drain of over $100,000, I decided it was time to pull the plug.
Following your passion can lead you to make decisions fueled by fervor for your business idea instead of the knowledge and insight that comes with practical experience. I learned this firsthand. I lacked the experience – i.e., the distinctive competence – that I believe any new venture requires in its founder. I truly knew nothing about being a publisher. And my strong passion for becoming a publisher did not make up for that void. This was Failure Point #1.
Seven Failure Points
Looking back, I realize that we made seven crucial errors:
I had no competence, experience, or track record in publishing
I did not secure pre-orders to validate the business model
I did not plan adequate funding for the scope of the venture
I let my passion blind me to the realities of the market
I did not listen to the advice of advisors and industry experts
I did not budget adequate time to sell a new business model
I did not have a realistic business plan that led to profitability.
Starting Sigma had been the culmination of a long-term vision to create a vehicle that would more efficiently connect buyers and sellers of commercial real estate. In the end analysis, my passion for this project could not overcome my lack of distinctive competence. The hardest lesson I learned from the Sigma experience is this:
Don't just follow your passion. Follow your expertise.
Expertise is not as sexy and exciting as passion. But starting a business in which you have distinctive competence will give you a much greater chance of being successful.
Are you or someone you know feeling the pull to becoming an entrepreneur? We invite you to download "The Pull To Become An Entrepreneur" here.
Ed McLaughlin is currently co-writing the book "The Purpose Is Profit: Secrets of a Successful Entrepreneur from Startup to Exit" with Wyn Lydecker and Paul McLaughlin.
Copyright © 2014 by Ed McLaughlin All rights reserved.