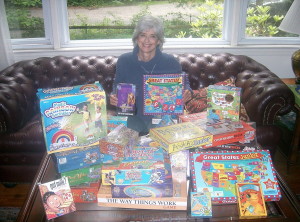 By Rebecca Lovering, social media coordinator
Invention is a fascinating cousin of traditional entrepreneurship. An entrepreneur is an inventor, but generally of a product or series of products that continues and evolves with her and her company. An inventor creates something that goes off and enjoys its own independent life, self-contained.
I recently had the chance to interview Mary Ellroy, a local Connecticut inventor, about how she left the corporate life to become a toy inventor, her resulting new career licensing her own inventions, and her role guiding others through the process as an agent. It was an amazing look behind a curtain I didn't even know was there. I've written up our conversation (edited for brevity and clarity) so you can learn a bit about the process of going from idea to product as an inventor.
Mary was generous with her time, so there's a lot of material, which I've split it into three posts. Today's is the first, Getting Started. Tomorrow I'll be publishing Part Two, in which I will share what I learned about the world of invention in general. The day after, I'll put up Part Three, about toy invention in particular.
Without further ado, Mary Ellroy!
Q: How did you get into toy inventing?
A: I'm a little different from a lot of the other people in my business. A lot of inventors came up through the toy companies – they went to art school or a school like FIT that has a division in toy design. I came a different way – I got an MBA and my background is in marketing.
I worked for a Fortune 500 Company and developed a distribution channel for them. I was on a management team, managing products you couldn't put on a shelf – call waiting, call forwarding.
I developed this thing where you could type in your phone exchange at a kiosk, and if you could get the product, it led you through some scenarios with actors and actresses being happy using it. It was a touch-sensitive interactive terminal, real early iPad stuff, in the middle-to-late-eighties. To make it work, you had to write a decision tree – it's a huge map-out.
[Through this process] I realized I loved gaming! So I left my job. It was crazy at the time to do that, but it was a time of flux in the telecom industry.  I had some savings and some resources, and I went away from digital and invented a board game.
Q: Once you had the idea, how did you realize it?
A: [I had this idea, but] I didn't know where to go with it. I'd invented this board game, but I needed a sound chip for it. I needed to understand how people worked in the industry, and I had no clue. So I was in the library researching the inventors of Trivial Pursuit and Pictionary, and I found Playthings Magazine, the toy industry magazine. They had an annual issue called something like "Who Makes It," and it would tell you who made googly eyes, or sound chips for things. It's an incredible resource for toy and game parts – batteries, battery holders, motors, blank boards. I got so excited, I went down to the Village and picked up a copy, I couldn't wait for it to come out.
I called this sound chip company and asked about their sound chips, and they asked if I had an industrial designer to work with. I said, "No, but it sounds like I need one." They asked where I was and recommended one two towns over.
I knew what I wanted the game to do, but I didn't know how to put it together. I called the guy, who was a freelancer, and I showed him my idea, and he said, "You need an agent, here's one I know." The agent picked me up and sold the game to Mattel, but it didn't go to market. It was slated to be introduced, but then they decided not to do it.
Creating a toy is a lot like a movie – the company will option the game, but it may never get produced.
Q: You're an agent now as well as an inventor, how did that happen?
A: The relationship with the agent is so important. My agent was a wonderful mentor. He and I still have a wonderful friendship.
He started taking me to meetings with toy company execs (venture relations people). Why was he showing me the insider stuff? He was planning to go back into the corporate world and he didn't want to leave me hanging. He gave me a bunch of numbers and names and said, "I'm launching you!" So I became my own agent.
I'm a member of the IACT and Mastermind. (Editor's Note: go to the United Inventors' Association site to find an inventors' association in your state.) At the start of local meetings, I would stand up and say my milestones, "I sold a game," or "I sold a toy," and eventually people asked me to represent them. I got asked to do public speaking at schools and organizations, and word spread. I got to the point where I was on Hasbro's preferred list of agents, and people will cold call me from that list, and the Toy Industry Association's list.
---
This concludes the first section of my interview with Mary. Check out Part Two tomorrow, "Inventing: an Industry" for Mary's tips on invention in general, and Part Three later this week, "Making Your Own Fun," about her life in the world of toy invention.
Got some tips for inventors yourself, questions or thoughts about invention? 
 Leave us a comment!