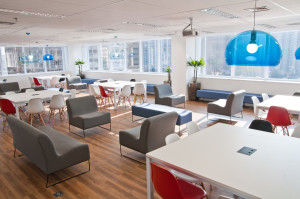 by Omar Douglass
Contributing Writer for The Purpose is Profit Blog
As startup advisor and self-styled "Growth Hacker," Paul O'Brien, wrote, "Entrepreneurs everywhere are trying to understand not just how to connect, network, and collaborate, but how to develop relationships with the right investors. Incubators, accelerators, and coworking spaces are the place to start." These relatively new kinds of workspaces and startup support systems have been growing for the past 10 to 15 years. But confusion abounds as to the difference between them. So just what are incubators, accelerators, and coworking spaces?
Incubators
Incubators provide startups with workspace and business development services – including accounting, branding, and intellectual property training – in a rent-based model offered to young ventures in a custom package. Most often investing capital in young companies in exchange for a small (5% – 15%) equity stake, incubators charge low to no up-front cost for utilizing the workspace and the organization's cultivated resources such as mentors and networks of investors in the startup's industry. An example of an innovative new incubator is the art, design and technology-focused New Inc in New York City. Sponsored by the New Museum and housed in a building next door with 11,000 square feet of dedicated workspace, the non-profit incubator provides the resident artist-entrepreneurs more room to explore.
Accelerators
Accelerators are structured more like "schools for startups," according to a recent article in The Economist. Complete with graduation ceremonies, accelerators are more organization than shared work environment. Once accepted into the accelerator's time structured program (often three to four months), startups with a developed product or record of service receive access to workspace, small amounts of seed-capital, mentorship, and formal networking opportunities. Despite the success of accelerator graduates like Airbnb, Reddit and DropBox, and the recognition of accelerators such as Y-Combinator and TechStars, the business sense of running an accelerator remains in question. So why do so many VCs and Angels get into these things? As The Economist explained it:
"For many
[accelerators], making money is not the goal: big companies often launch them to tap into the startup community or as a marketing exercise; governments subsidize them to foster their entrepreneurial ecosystem; and many angels see their investment in them as a way of giving back. But most accelerators that take equity in their startups hope that at least some will return a respectable multiple of the investment."
Coworking Spaces
Coworking space is more a style of work than a structured environment or educational program. Often decidedly holistic, coworking spaces cultivate supportive and life-balanced work environments, while providing a fertile, collaborative environment for young companies to form and formulate ideas. With more peer-to-peer mentorship and greater access to talented entrepreneurs, the thinking is that early-stage startups can get ahead on launching a product and earning a profit by starting out in a coworking space.
Often beautifully designed open spaces with plenty of natural light or with floor plans that emphasize community, the some of the best coworking spaces seem to reside within accelerators and incubators. While they tend to look the same, the three can be distinguished by the connection to investment and the needs of the participating startups. If you are considering one of these options, you should first determine what stage of growth your startup is in. Decide to take a focused, yet flexible, look at what you have to offer in terms of competitive advantage within your industry. Then seek out collaborative networks you can tap into to learn more about incubators, accelerators, and coworking spaces near you.
In my next post, we will dig deeper into the inner workings of some established organizations themselves. Have you participated in an accelerator or incubator? Is your startup housed in a collaborative workspace? Share your experience in the comments.
Ed McLaughlin is the author of  The Purpose Is Profit: The Truth about Starting and Building Your Own Business, along with co-authors Wyn Lydecker and Paul McLaughlin. The Purpose Is Profit (Greenleaf Book Group) is available in bookstores now.