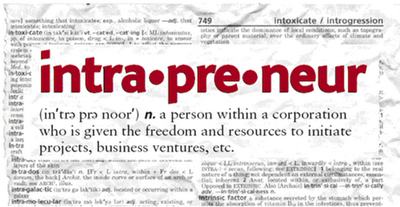 By Ed McLaughlin and Wyn Lydecker
Most articles focus on traditional, whole-hog entrepreneurship and sometimes about lifestyle entrepreneurship. There is, however, another style of entrepreneurship I would like to bring to your attention: "intrapreneurship," a term that's been in circulation since 1982.
Lockheed Martin was first to sponsor in-house entrepreneurship in 1943, when it created its Advanced Development Projects department, casually called "Skunk Works." The department has been an integral part of Lockheed Martin's business ever since, creating iconic aircraft like the F-22. In fact, the word "skunkworks" is a synonym for intrapreneurship.
If you love the company you work for, but you have a burning desire to try out new ideas, intrapreneurship may be for you. It's the art of starting up while still inside another company. If your internal venture is successful, it may split off and become a separate company, or it may be a permanent product line within the parent company. Some amazing companies and products have started as intrapreneurships, like Expedia, the Macintosh computer, and Shutterstock's Spectrum search. If you love the security of your job, and maybe even your corporate home, you may not have to choose between starting something new and staying with your company of employment. If your employer doesn't already have such a program formalized, though, don't despair. You can start one!
As Tom Lowery says in his article, "How to Leap from Employee to Intrapreneur (and Be the Change You Want to See)," intrapreneurship requires more than the usual working slog. Intrapreneurship "involves assertive risk-taking and innovation, not just waiting around to be asked to do something." If you are full of ideas on how to make a better widget than your company does presently, speak up! That brings me to another point: your odds of success as an intrapreneur are increased if you build on the strengths already demonstrated by your employer. That is, your widget should be related to the widgets you already make. Capitalizing on the core of your company's existing business comes with the advantage of access to more resources, as Sean Silverthorne points out in his article for the Harvard Business School blog, Working Knowledge, "Risks and Rewards of the Intrapreneur." Sticking to your company's core abilities and priorities will get you to actual production faster than something that is not as in-line with existing strengths and assets.
Intrapreneurship is not a walk in the park, as CBS's "How They Did It: Seven Intrapreneur Success Stories," describes. The corporate structure may get in the way of your idea's execution: just having the idea may not mean you get to head it up. Company rules may interfere with the degree to which you want to set your concept free, as Jeri Yoshizu found when she came up with Scion17 XM Radio. Intrapreneurship often requires the same persistence as traditional entrepreneurship, not just because of competition, but because of pushback from the corporate structure, as Caribou Coffee's Kathy Hollenhorst experienced on her path to instituting a customer loyalty program. Even if you encounter none of these particular hurdles, the question of ownership of your own ideas is a big one if you choose to pursue intrapreneurship.
When deciding how to realize your entrepreneurial dream, throw intrepreneurship into the mix as a possibility. Though you may have to get over some corporate hurdles, if you get the full backing of your company's resources, your idea may be able to roll out, large as life, much sooner than if you go out on your own. On the other hand, if part of your burning desire is complete ownership of everything you create, it may not be the best path for you. Whichever road you choose, the persistence and creativity of entrepreneurship can serve you inside or outside a corporate structure.
 Ed McLaughlin is currently co-writing the book "The Purpose Is Profit: Secrets of a Successful Entrepreneur from Startup to Exit" with Wyn Lydecker and Paul McLaughlin.
Copyright © 2014 by Ed McLaughlin  All rights reserved.