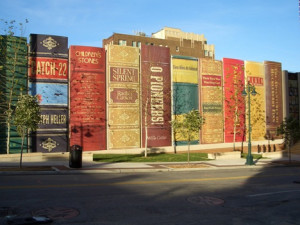 By Ed McLaughlin and Wyn Lydecker
Public libraries have been great places to go in the US since the first one appeared on the scene in Peterborough, New Hampshire in 1833. They have collections of books on thousands of topics and knowledgeable professionals to guide you to the right ones for you. As new media have become available, libraries have kept up, stocking videos, CD's, and DVD's over the years. They have also been centers for active education, teaching classes in research techniques, Internet navigation, and in many cases, entrepreneurship. They are also a safe haven, cool and quiet spaces to think, read, write, and seek mental refuge. When large-scale book digitization and Internet dissemination came on the scene, however, some worried it would spell the end of this great institution.
I am personally very attached to the library. It's where my fourth child, USI, was born. As long as our local library was open, my first partners and I would lock ourselves in a study room, basking in the air conditioning and figuring out what we needed to do to turn my idea into reality. The library  was a refuge from the cottage my family and I had moved into to reduce our expenditures to minimize our personal risk while I toiled at my startup. My partners and I spent hours there, honing our vision into a dynamic plan for USI.
Thankfully, some recent articles have reassuring perspectives on the present and future of the American library. NPR tells us that libraries are still the place people go to get guidance from knowledge experts. Although technology might seem like it would draw patrons away from the brick-and-mortar search facilities, it seems heavy library users are also heavy technology users. The New York Times gives a peek at the library's future, integrated with the digital world and welcoming patrons in with open doors and arms.
Some libraries are transforming themselves into incubators for entrepreneurs with their quiet and access to wifi and technology. My local library has gone out of its way to offer business, media, and technology services.  Patrons can use a 3-D printer, a Bloomberg terminal, and video editing software. Your local library may have meeting rooms you can use for free or for a reasonable fee.  Research librarians can be an amazingly helpful resource for entrepreneurs who are seeking to do in-depth market and competitive analyses.  They are not only up on the latest Google search tricks, they can show you how to access databases, financial filings, and industry association journals.
It is my hope that libraries will continue to be a haven of inspiration to the next generation of entrepreneurs. Maybe you'll be one of them.
Download our free chapter, "The Pull to Become an Entrepreneur" here.
Ed McLaughlin is currently co-writing the book "The Purpose Is Profit: Secrets of a Successful Entrepreneur from Startup to Exit" with Wyn Lydecker and Paul McLaughlin.
Copyright © 2014 by Ed McLaughlin   All rights reserved.