By Ed McLaughlin with Wyn Lydecker
You know you want to start a business. But are you are willing to invest the time upfront to increase your probability of success? Like many entrepreneurs, you are chomping at the bit to start. You want control.  You are not afraid of making decisions.  You want to build, lead, and grow a profitable business. You are not thinking about exit; you are thinking about legacy – but you have a healthy fear of failure.
You have ideas, but you need a way to test them and figure out if they are bankable, sustainable, and worthy of your time, money, and reputation. You want to get started, but you do not want to take unnecessary risks. As much as possible, you want to figure things out before taking the plunge – but you do not want to hamper your creativity, your energy, and your enthusiasm to get started – for fear you never will.
As I see it, you have a choice.  You can roll the dice and launch with a plan to figure out the inevitable problems and challenges as they present themselves. Or you can invest the time before you launch to address inhibitors, resolve unknowns, and lay the foundation for your success.
A study by Harvard Business School senior lecturer Shikhar Ghosh showed that 75% of venture capital-backed startups fail. His report, which was published in September 2012, covered businesses created between 2004 and 2010. Mr. Ghosh claims that non-venture capital-backed businesses fail at an even greater rate.
If you're intent on starting a business, you'll probably have lots of ideas occurring to you all day and all night. To improve your probability of startup success, you need a process for exploring, testing, and validating all those ideas, as well as gaining confidence that you are moving in the right direction.
Ed "Skip" McLaughlin is the author of The Purpose Is Profit: The Truth about Starting and Building Your Own Business, along with co-authors Wyn Lydecker and Paul McLaughlin. The Purpose Is Profit is available on Amazon.com and at your favorite bookstore now.
Ed McLaughlin is the founder of four businesses and is currently running Blue Sunsets LLC, a real estate and angel investment firm based in Darien, CT. Follow him at @purposeisprofit.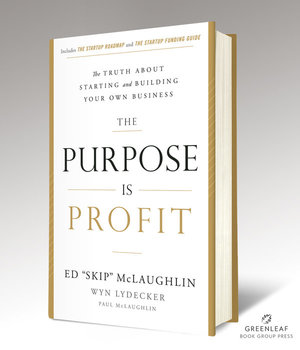 Order The Purpose Is Profit Here
Copyright © 2017 by Ed McLaughlin All rights reserved.